Park History
---
The Wildlife Sanctuary has been in existence since 1978, as a private venture by the current Park Ranger. The Snohomish County Parks bought the property in 1995, thereby making it available to the general public.
So far, the Wildlife Sanctuary has been serving the public, albeit very quietly, for a couple years now. We hope that in publishing this web page, more people will become acquainted with the beauties of nature and become aware of it's scarcity as modern man becomes more established.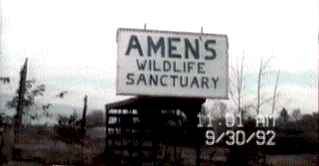 AMEN'S WILDLIFE SANCTUARY is the name I called the sanctuary before the county bought it. It is now referred to as Portage Wildlife Area. See Map Snohomish Co. Parks. This sign is mounted on a wheeled scaffold I call the Trojan Horse. I took this one to Snohomish County Courthouse in Everett to rally support for the Sanctuary in 1992.
Glimpse of the Past

Humankind is put in its proper place. This is a picture about a dome that was made of oak strips, tied with wire and string. Could support the weight of a man. Used for two years, stood for much more, and is now in ruins. Used mostly for storage.

Built for a touch of the Orient. Made from a curved log sawed in half. Still standing.



---




---
Email the Park Ranger
Email the Web Master